Sumire?! What is going on!?
Anyway, last night, my Twitter is going all crazy because of that show! Look at this!

Edited Image
ARROW © Warner Bros. Entertainment Inc.
Well, not enough?! This will convince you!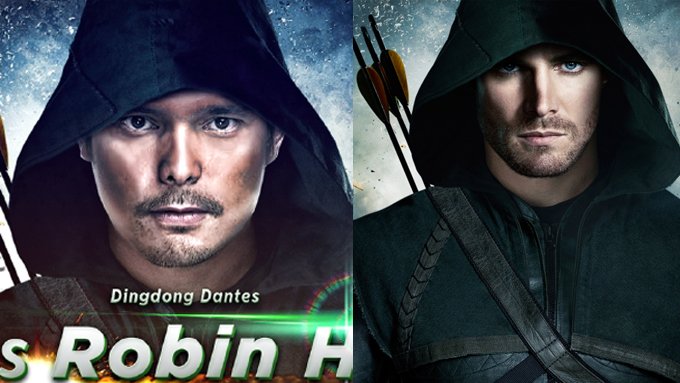 Edited Image courtesy of PEP.ph
ARROW © Warner Bros. Entertainment Inc.
GMA NETWORK JUST RIPPED ARROW OFF!! A unknowing & potential breaking of copyright law! Did they just mimicked the design of his attire like him?! If you're like Suzette Doctolero, you're going to tell them that this is based, not after Arrow, but after the original Robin Hood folktale, because you know you think that this is under PUBLIC DOMAIN, huh?! You think that Arrow and Alyas Robin Hood is based off of the classic folktale?! Well, next time, RESEARCH MORE ON THE CLOTHES HE'S WEARING just to not make it similar to Arrow's!
As to say, it's too late now, Suzette, you already triggered #PitchAShowToGMA now!!
GMA's UPCOMING SERIES #PitchAShowToGMA https://t.co/PYL2DVLMMF

—
Lotus Feet (@lotusfeet02) August 30, 2016
Just a reminder for stupid kids and fantards. #PitchAShowToGMA #Andtheyforgotitwasdonealsobytheirbelovednetwork https://t.co/ehJ2mDkptE

—
Sarah Catharine (@erinxcathe) August 31, 2016
House of Cars. #PitchAShowToGMA https://t.co/KsuS8mpb9J

—
Apa (@apaagbayani) August 30, 2016
The Punisherano #PitchAShowToGMA https://t.co/uq2bmBpKWk

—
Bed Bath & Beyoncé (@kristinebaguio) August 30, 2016
We're still waiting for #PinoyDoctorWho. :c #PitchAShowtoGMA bit.ly/2c4SLCb

—
Whats A Geek (@whatsageek) August 30, 2016
I think that's enough fantaseryes and telefantasyas for now; GMA blew it all on Encantadia, now this?! WHY NOT SHOW A FAIRY-THEMED ANIME LIKE RILU RILU FAIRILU ON PRIMETIME?!

RILU RILU FAIRILU © '15, '16 SANRIO / SEGA TOYS S·S/TX·RFPC
Sure, they once aired My Melody here, also on Q (now GMA News TV), but can't they just air another Sanrio anime?! NOPE, they will think it will make them suffer because of ABS-CBN's Ang Probinsyano!
GMA need to reconsider what this will result into! If they would keep the war against ABS-CBN going, I want TV Tokyo to come to the Philippines to challenge the Big Two with their anime!
SAVE US TV TOKYO!! THINK OF THE CHILDREN WHO IS GOING TO BE AFFECTED BECAUSE OF WHAT THE BIG TWO IS DOING TO THEM!!!!
…but anyway, I need to cry myself to sleep…
バイリル~♪ りっぷちゃん
POSTSCRIPT: (Sumire) Uh, Lip…
…Suzette confirmed some of the posters are fake.
Featured Image courtesy unknown (as of this post)
ARROW © Warner Bros. Entertainment Inc.