Image from Fushigiboshi no Futagohime Gyu!
FUSHIGIBOSHI NO FUTAGOHIME GYU! © BIRTHDAY ・ NAS ・ TV TOKYO
POV 1 of 12
Fine: Hey!
Rein: Hey… Just finished my chores for the evening.
Fine: Did you watched Twin Star Exorcists lately?
Rein: Uh… …not much, since I only just watched the first episode…
Fine: Huh?
Rein: A lot of work for me just can't have time for blabbering about the plot on social media, you know. I need some time for myself.
Fine: Oh? All right. What plans?
Rein: If I have time, I would usually find a reputable VOD service that streams that anime.
---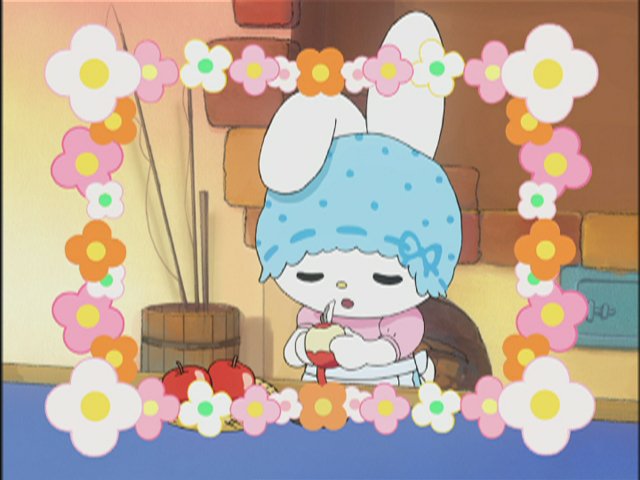 Image from Onegai My Melody
ONEGAI MY MELODY © '76, '05 SANRIO CO., LTD. SANRIO/W・TVO・MMPC
POV 2 of 12
My Melody's mother: Oh… So much for that sob story… If only I have a satellite to watch TV Tokyo or any other Japanese TV channel here in Mari Land, I would have been happy watching Sofia the First; if not for Hero TV to stop overusing in-house talents for a wide range of credible actors…
---

Image from When Supernatural Battles Became Commonplace (aka Inou Battle Within Everyday Life)
WHEN SUPERNATURAL BATTLES BECAME COMMONPLACE / INOU BATTLE WITHIN EVERYDAY LIFE © 2014 Kota Nozomi-SB Creative / SKB
POV 3 of 12
Chifuyu Himeki (with Lissun): If you think you're going to persuade ABS-CBN to change their habits when it come to dramas, I know that it will fail again and again, no matter how you approach them!
Jurai Ando: At least I bet they will consider!!
---

Image from Sugar Sugar Rune
SUGAR SUGAR RUNE © 2005 Moyoco Anno / Kodansha / Marvelous Entertainment / Pierrot / TV Tokyo
POV 4 of 12
Chocolat: I'm thinking of a writing a review on 2016 in regards to teleseryes before the end of the year. Any thoughts of this, my friend?
Vanilla: Um… Does that include pre-2016 teleseryes that currently air this year?
Chocolat: Definitely!
---

Image from Anyamal Tantei Kiruminzoo
ANYAMAL TANTEI KIRUMINZOO © Shoji Kawamori / SATELIGHT, JM ANIMATION, HAL FILM MAKER / ANYAMARU TANTEISHA
POV 5 of 12
Riko Mikogami: It was like staying together with a late parent in the graveyard, listening or watching the Chicago Cubs win the World Series for the first time in a century…
Rimu Mikogami: Defining "watching", you're wrong; their technology was not advanced enough to watch TV anywhere a la 1seg in Japan.
Riko Mikogami: What?!
Rimu Mikogami: I would think that the ATSC's future will take them to such point…
---

Image from Shugo Chara! (aka My Guardian Characters, image as shown on TV Tokyo)
SHUGO CHARA! / MY GUARDIAN CHARACTERS © 2007 PEACH-PIT, Kodansha / Embryo Search Party, TV Tokyo

POV 6 of 12
Utau Hoshina: Hey! You hear?! There was a commotion at some parts of EDSA plus White Plains Avenue over the SC decision to bury Ferdinand Marcos at the Libingan ng mga Bayani!
Uta Yumeno (from the Onegai My Melody series): Um, you should check the news, somebody said to me that the body they interred was a fake.
---

Image from Saki Achiga-hen episode of Side-A
SAKI ACHIGA-HEN EPISODE OF SIDE-A © Ritz Kobayashi / Square Enix · Mahjong Club Committee
POV 7 of 12
Members of the girls team are watching the news on NHK-G on their tablets via 1seg
Anchorman: Over on the Philippines, protesters are currently flocking to streets around Metro and Mega Manila, mainly to show their grievances against the Supreme Court regarding the decision to allow the burial of Ferdinand Marcos in the Libingan ng mga Bayani. Protesters chanted "Marcos is not a hero", "He is a dictator", "Rescind, rescind, rescind, rescind", "Putang ina mo, Korte Suprema" and other offensive chants.
---

Image from Nyaruko: Crawling with Love
NYARUKO: CRAWLING WITH LOVE © Manta Aisora – SOFTBANK Creative Corp. / Team-UNSPEAKABLE ONE
POV 8 of 12
Nyaruko: Tired of repeated love stories or slappy scenes? Fed up with sensationalized news? Wanna beat the scheiße out of the musical acts on noontimes and Sundays? Fear not, that Nyarlathotep is going to have a very serious chat with the Big Two!
---

Image from Lilpri (as shown on TV Aichi, a TV Tokyo/TX affiliate station)
LILPRI © SSJ / Lilpri Group, TV TOKYO
POV 9 of 12
Layla Takashiro: Langit Lupa, 11:30am… It's Showtime, 12:15pm… D… Doble Kara… 2:30…
Ringo Yukimori: What's bothering Layla right now, Natsuki?
Natsuki Sasahara: I don't know, but maybe it's related to what is going on with ABS-CBN…
---

Image from Zoobles! (as shown on broadcaster unidentified at time of posting)
ZOOBLES! © SEGA TOYS / SPIN MASTER / ZOOBLES COMMITTEE
POV 10 of 12
Coron: I thought that Langit Lupa or any other upcoming ABS-CBN teleserye would stay in the mold like they used to.
Panky: You're right. Get me a TV satellite!
Chevy: No, no, no, no, no, no, no, no, no, no, no, no, no, that wasn't the case!!
---

Image from Natsume's Book of Friends
NATSUME'S BOOK OF FRIENDS © YUKI MIDORIKAWA, HAKUSENSHA / NATSUME YUJIN-CHO PROJECT

POV 11 of 12
Takashi Natsume (in his mind): Gran always have some "youkai" that made decisions based on instinct. So to think, why she thought that they were to be responsible for TV5's and GMA's mismanagement crisis?
---

Image from Jewelpet Sunshine (as shown on TV Tokyo)
JEWELPET SUNSHINE © '08, '11 SANRIO / SEGA TOYS S・S/W・TX・JLPC
POV 12 of 12
Milky: So far, we have allocated channel numbers for more than twenty foreign TV channels. Among those that will soon air on terrestrial television in Jewelland are, to name a few: ABS-CBN, QVC, Cartoon Network, Deutsche Welle, both NHK channels in the names of "NHK General TV" and "NHK Educational TV", Das Erste and TV Tokyo.
Luna: The allocation auction for Sweetsland terrestrial television channel numbers will begin shortly, and in conjunction with the ongoing allocation auction for Jewelland terrestrial television channel numbers.
---
Featured Image from Pocket Monsters Best Wishes Season 2 / Pokémon BW: Adventures in Unova and Beyond (as shown on TV Tokyo)
POKÉMON ANIME / ANIMATED SERIES © 1997-2016 Nintendo, Creatures, GAME FREAK, TV Tokyo, ShoPro, JR Kikaku
POKÉMON FRANCHISE © 2016 Pokémon / ™, ®, and the character names are trademarks of Nintendo
Copyright information is declared correct as of this posting
Recent update: first POV image MIA, replaced